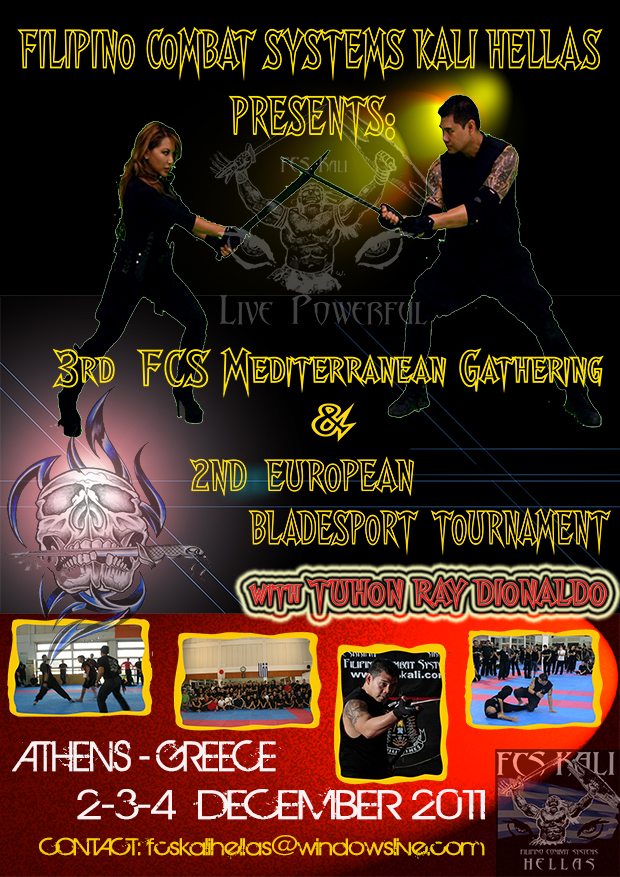 Η πρόσκληση της ομάδας το 2011:
Dear colleagues and friends,
After the 1st  & 2nd Mediterranean Gathering, organized by FCS Kali Hellas Union and introduced by the world famous master,  Tuhon  Ray Dionaldo, we would like to invite you to this year's 3rd  Mediterranean Gathering of the Modern Martial Art FCS Kali.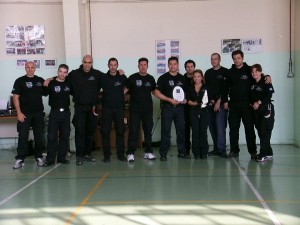 For the 9th year in a row in our country, Tuhon Ray will teach the Art of ''Blade & Stick'', FCS Kali.
This year our Union FCS Kali Hellas, as last year, is mounting along with the 3rd  Mediterranean Gathering, the 2nd   European Kali Tournament (''Blade & Stick''), under Bladesport  terms. The Bladesport Team is the fighting brunch of FCS Kali, which so far appears only in the Central and Latin America. The combats are absolutely secure, with use of protective equipment and under modern rules which advance both the spectacle and the high technical skills.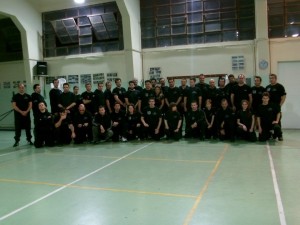 In the 2nd  Bladesport Tournament in Europe, the participants can be all students and instructors of Filipino Martial Arts, regardless their level or experience. Participants can also be all students and instructors of any Martial Art which include in the curriculum the teaching of blade and stick. The categories are: -Short Blade-Long Blade-Double Blades-Single Stick-Full Contact Single Stick
The schedule is:
Friday 02-12-2011, 18:00-21:00
Pre-Gathering  – Seminar with  Tuhon Ray Dionaldo on advanced techniques for instructors and Fcs members
Saturday 03-12-2011,
11:00 -14:00 & 16:00-19:00 Open Seminar by FCS KALI FOUNDER Tuhon Ray Dionaldo
19:00-21:00 Examinations in upgrading level for FCS KALI members (Greeks and Foreigners)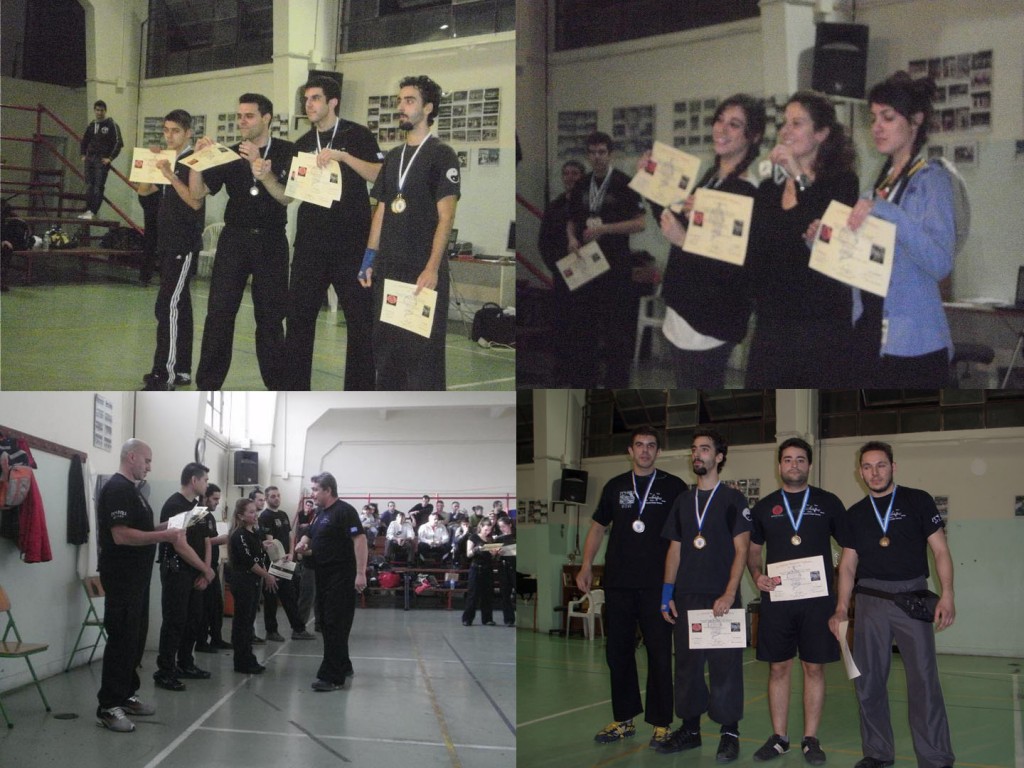 Sunday 04-12-2011,
10:00 – 13:00 Open Seminar by FCS KALI FOUNDER Tuhon Ray Dionaldo
13:30 – … COMPETETION OPENING TIME
Bladesport Tournament,  Blade & Stick Fighting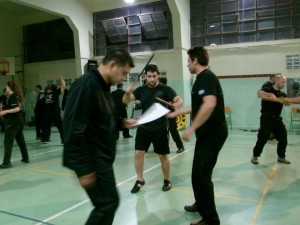 Location:  Indoor  training facilities of  IOANIS CHARALAMPOPOULOS
Perikleous & Papanastasiou(former military factory) Nea Chalkidona, Athens ,Greece
For  participants from aboard, Fcskali Hellas Team can book rooms in a hotel  nearby  the Stadium Facilities.
For Booking rooms and more info contact Email: fcskalihellas@windowslive.com or call: 030 6972860790(D. Angelis) Do not Miss this event. We will be honoured to have you with us.